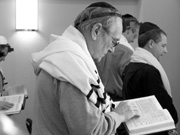 Chabad of West Hills has been "A Home for Jewish Life and Learning"for almost thirteen years.
At the Chabad in West Hills, we offer Shabbat and Holiday Services that are joyous, engaging and uplifting. You'll feel right at home with our warm and friendly atmosphere, with lively singing the continuous explanations and Kiddush.  Here's Our Schedule: 
 

 

 

 

 

Friday Evening 
Shabbat Services

Winter Time: 
Kabbalat Shabbat at 5:30 p.m.

Summer Time: 
Kabbalat Shabbat at 6:30 p.m.

 

 

Saturday 
Shabbat Services

Join our user-friendly traditional prayer services for a spiritually inspiring experience! Soulful prayer, spirited song, Hebrew-English "user-friendly" prayer books, interactive and thought provoking Torah discussions followed by a delicious Kiddush luncheon.

Shabbat Morning Services begin 10:00 am  
Kiddush Lunch with the finest cholent in town served after services at around 12:15 pm all are welcome!

To sponsor a Kiddush in honor or in memory of a loved one, please contact the office.